INFORMATION:
Click HERE to visit the the Delaware Confederate Monument information page.
Description of the Delaware Confederate Monument
The soldiers and citizens of the state of Delaware fought for both sides during the War between the States period (1861-1865). Delawareans constructed and installed monuments for Delaware's federal soldiers; even just recently at Gettysburg, Pennsylvania, but there has never been a monument dedicated to the citizens of Delaware that served the Confederacy and there are no known monuments recognizing these citizen soldiers of our state.
It is the desire of the Delaware Grays Camp, (Sons of Confederate Veterans), to recognize the valor and sacrifices of Delaware's citizens and soldiers who fought for the Confederacy by installing this monument within our state, inscribed with the known names of Delaware's Southern soldiers and their regiments, dedicated to those citizen/soldiers that are known. We do this so history may honor all of our statesmen that fought and served during the War between the States period.
Delaware Confederate Monument
Dedication & Unveiling DVD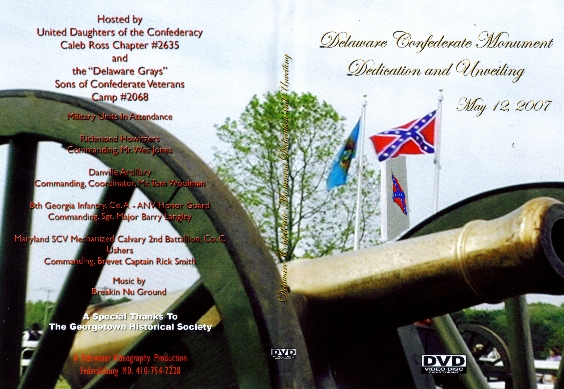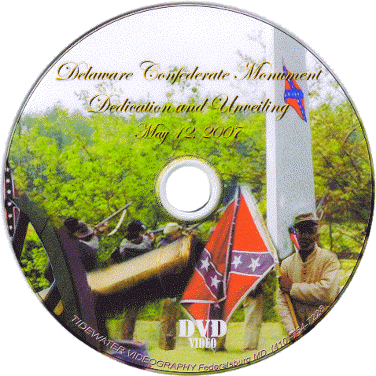 Raising money for the Delaware Confederate
Monument's perpetual care:
All contributions go directly toward the preservation and expansion of the monument along with continuing research on Delaware Confederates to be added to future additions to the Delaware Confederate monument.
For contributions over $25 or greater, you may request a complimentary copy of the Monument Unveiling DVD (dated 2007) while supplies last.*

For those wishing to obtain just a copy of the DVD itself, send $20 (plus $5 for shipping and handling) to the address of any member of the monument committee
(listed on the Delaware Confederate Monument page).

IMPORTANT: Please make all contribution checks out to the "Delaware Confederate Monument Fund".

*Censored versions are available for schools upon request.
Questions or comments may be directed to any of the following Monument Committee members:
Jeffrey Mark Plummer
#1 Fox Creek Drive
Rehoboth Beach, DE 19971-9612
delreb@earthlink.net
John J. Zoch, Sr.
9455 Airport Road
Seaford, DE 19973
zochster@gmail.com